Auditions
ALL AUDITIONS ARE HELD AT LITTLE COLONEL PLAYERS THEATER
302 Mt Mercy Drive, Pewee Valley
All auditions at 7:00 PM unless otherwise noted
Ken Ludwig's The Gods of Comedy
By Ken Ludwig. Mike Price directs. July 31, August 1 @ 6 to 9 pm
Auditions will be cold readings of provided sides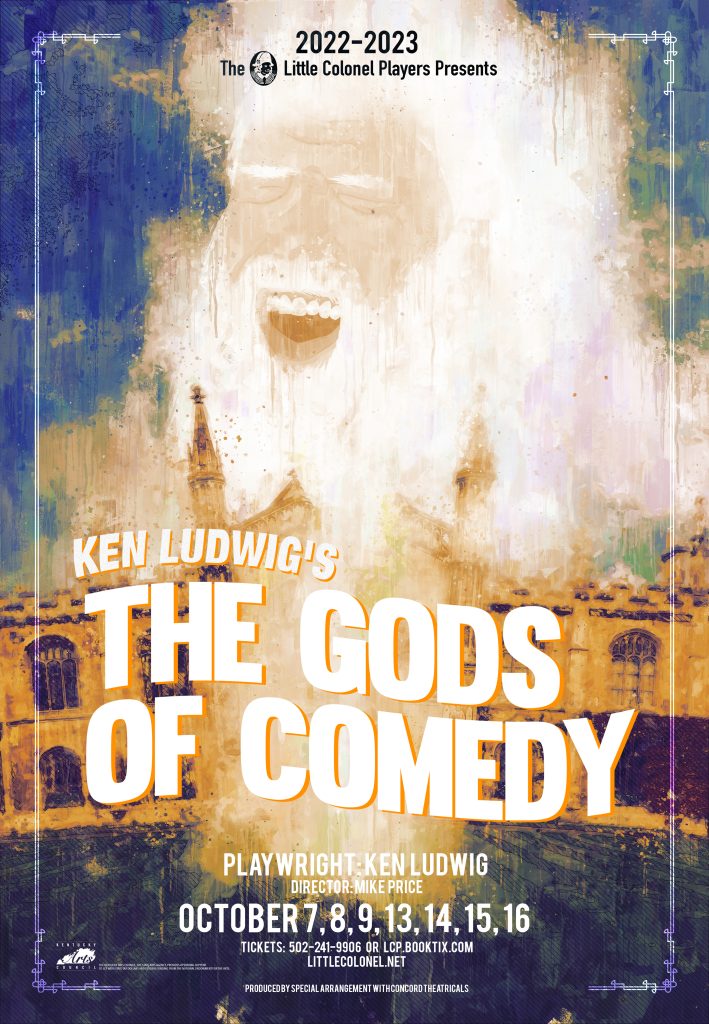 Roles available are open to all ethnicities.
Ages listed may have some flexibility.
An upbeat, high-energy show for 4 women, 3 men
Daphne Rain (30s) A young and esteemed American Classics professor from a liberal arts university. She is a passionate Hellenic scholar, currently working to mount a production of Euripides' Medea as part of her Tenure Folio. Hiding behind her bookishness, hesitation, and self-imposed isolation, Daphne has a fiercely independent spirit and is on the verge of the adventure of her lifetime.
Dean Trickett (50s) The Dean of the Classics Department at the university where Daphne teaches is a lusty "force of nature." Hailing from England, her hearty gusto and "full throated laugh" simply can't be tamed. She is staunchly passionate about her work and will do whatever it takes to see that the study of Classics is preserved and appreciated by the next generation. Also plays 'Thalia disguised as the Dean'.
Brooklyn/Zoe (20s-40s) Smart, gorgeous movie star visiting her alma mater. She seeks her next big film role. She seduces Ralph and "makes out" with Ares. Also plays 'Dionysus disguised as Brooklyn'.
Zoe is the Greek wife of Aristide.
Thalia (muse of comedy and poetry) (20s-40s) Summoned by Daphne, She is Dionysus's partner in comedic crime from Mt. Olympus. Thalia is a positivist who doesn't get caught up in the details. Confident, happy-go-lucky and, like Dionysus, a musical theater type.
Ralph Sargent (30s) Hellenistic studies rising-star who has just been hired as the new head of the Classics Department with Daphne and the Dean. He is work-obsessed, bursting with energy, and on the hunt for a 'lost' Euripides play, a find which could make his career and change the course of theater history. Wears Glasses. Is seduced repeatedly. When very upset he often utters "Grk! Grk! Grk!"
Dionysus (god of comedy, wine, revelry and sex) (40s-60s)
Summoned by Daphne, Lover of all things boisterous, anarchic and ecstatic, Dionysus is particularly thrilled to discover all the indulgences a twenty-first century college campus has to offer him. musical theater type.
Ares (god of war)/Aristide/Aleksi (30s-40s)
Big, powerful, brutish and demanding with beard or at least tough stubble! Easily insulted.
Aristide is a clever Greek trinket-seller and introductory narrator, Aleksi is a loveable Russian émigré janitor with big dreams.
Also seeking Stage management, Costume and production assistance!
A Dickens' Christmas Carol - A Traveling Travesty in Two Tumultuous Acts
By Mark Landon Smith. Marth Frazier directs. Oct 9, 10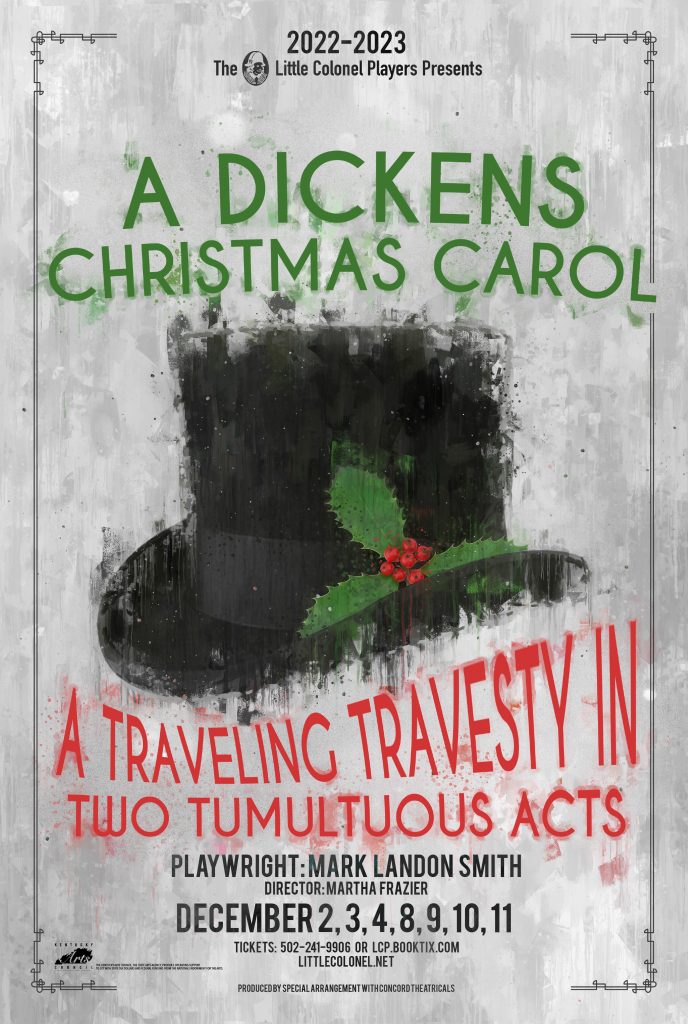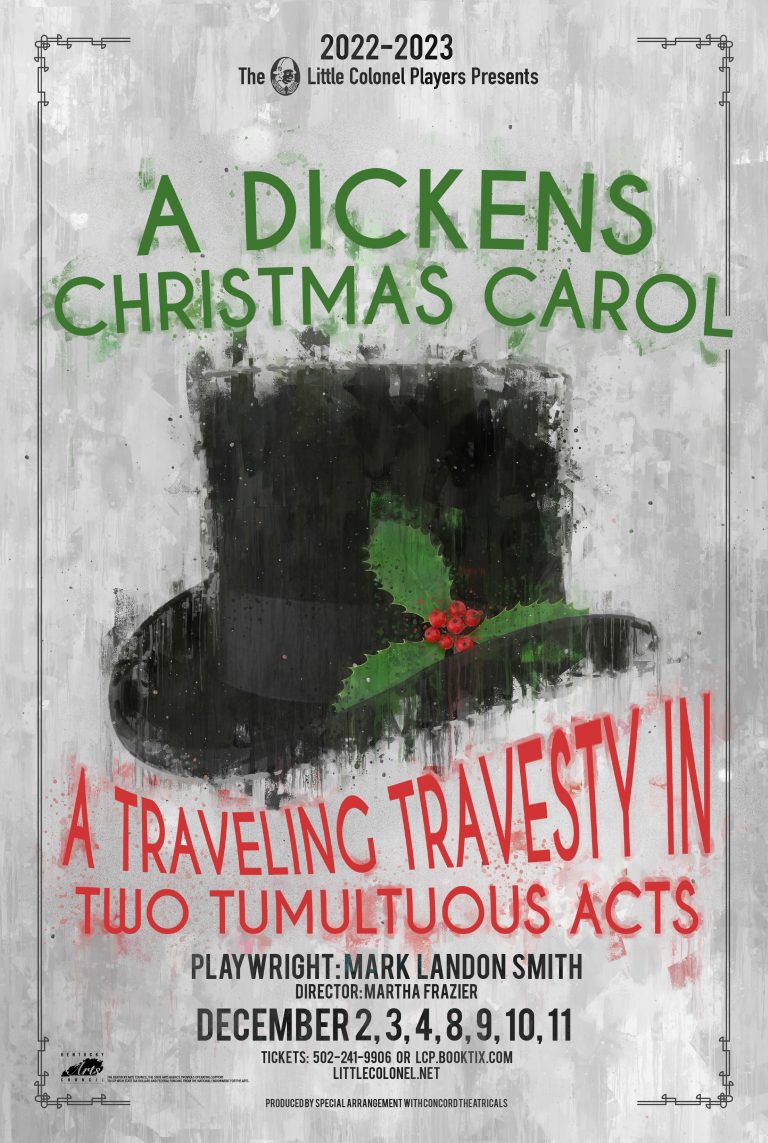 All the following characters, except for Sir Selsdon, play multiple roles in their production of A Christmas Carol. It is a physically demanding show
Sir Selsdon Piddock – M – 60+  A classical actor who will be playing Ebenezer Scrooge
Mr. Elyot Crummels – M – 40-50s  A once dashing leading man now playing character parts
Teddy Shub – M – Teen-20s  An over-anxious young actor 
Mrs. Bettina Salisbury – F – 40-60s  The company diva (does some stage fighting)
Mrs. Cordelia Foliet-Folkes Fortescue Woods – F – 30-60s  An actress who wishes her resume were as long as her name (does some stage fighting)
Dame Rowena Middleton-Lewis – F – 30-60s  An actress of some pretensions
Cynthia Imbry – F – Teen-20s  Young actress who is the company understudy and has never been onstage, until tonight
Things My Mother Taught Me
By Katherine DeSavino. Alyssa Hendricks directs. December 5, 6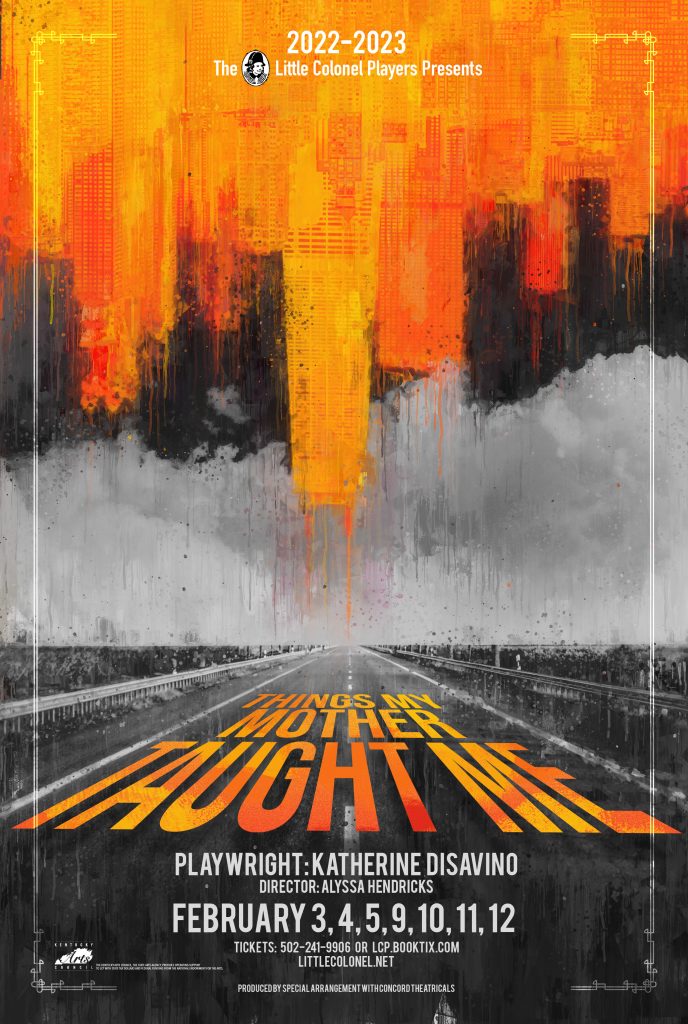 Olivia – F – 20's-30's Energetic, neat, an architect; dating Gabe.
Karen – F 50-65 – Free-thinker, open-minded; Olivia's Mother 
Carter – M 50 -65 – Very into his phone, distracted; Olivia's Father
Gabe – M – 20's-30's – Good-natured, forgetful, a writer; dating Olivia
Lydia – F 50-65 – Idiosyncratic; neat-freak; Gabe's Mother
Wyatt – M 50-65 – Overly friendly, causal; Gabe's Father
Max – Any – 50-65 – Rough around the edges, good-hearted; building Super
By Joseph Kesselring. Larry Chaney directs. Feb. 5, 6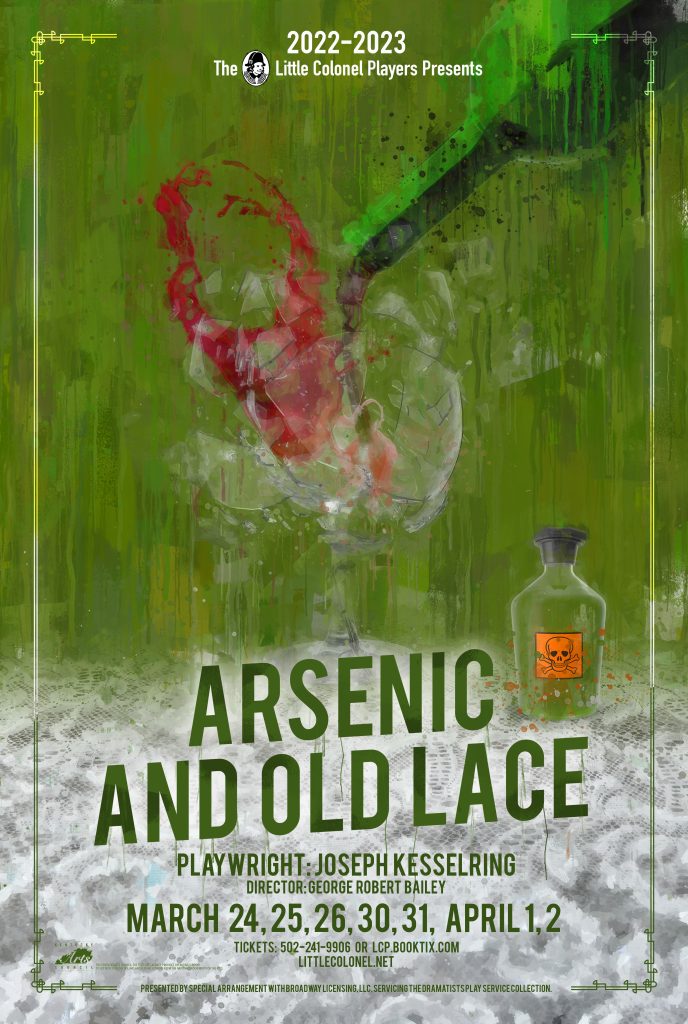 ABBY BREWSTER – F 50-70 Stronger of the two darling aunts
MARTHA BREWSTER – F 50-70 Submissive Abby but still strong and sweet
MORTIMER BREWSTER – M 30-50 Strong physical comedy skills. Likeable and goodhearted.
TEDDY BREWSTER – M 40-60 Thinks he is Teddy Roosevelt all the time.
JONATHAN BREWSTER – M 40-60 Scary. Think Freddy Kruegerish. Physical comedy skills
REV. DR. HARPER – M 50-70 Mannered and Refined
ELAINE HARPER – F 25-40 Spunky with a wide emotionally comic range
DR EINSTEIN – M 45-55 Foreign and good at heart, kinda. Solves conflict with drink.
MR GIBBS/MR WITHERSPOON – M 50-80 Almost victim/head of sanitarium. Double cast
SERGEANT BROPHY – M 20-40 Likeable and strong
CONSTABLE O'HARA – M 20-40 Intellectual for a policeman
Lt. ROONEY – M 30-50 Does not mess around.
By Bill Baker. Bill Baker directs. March 26, 27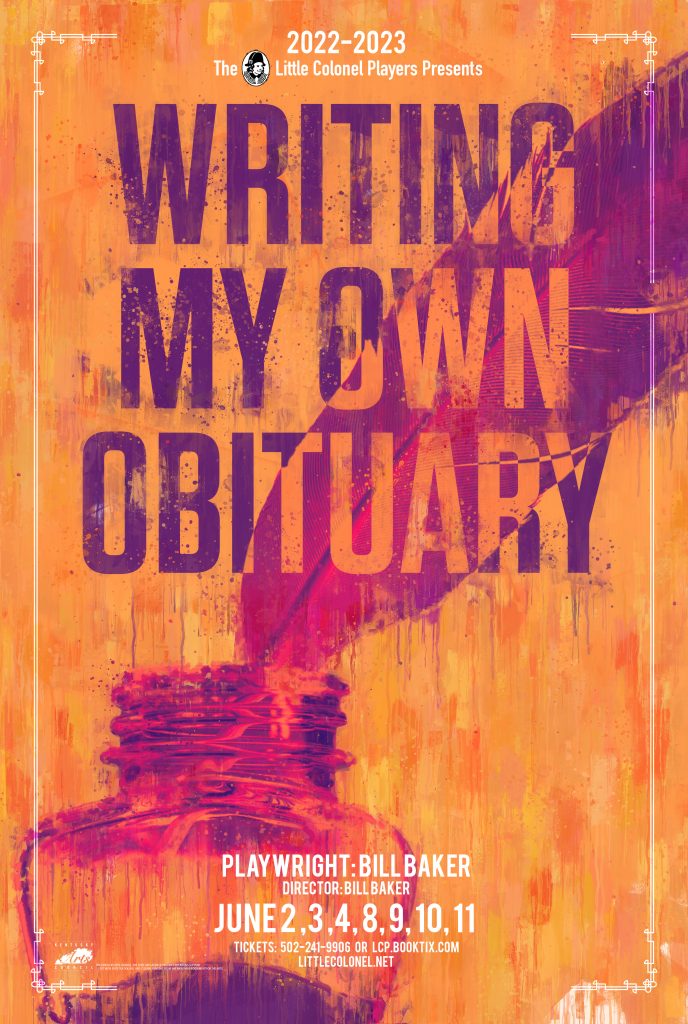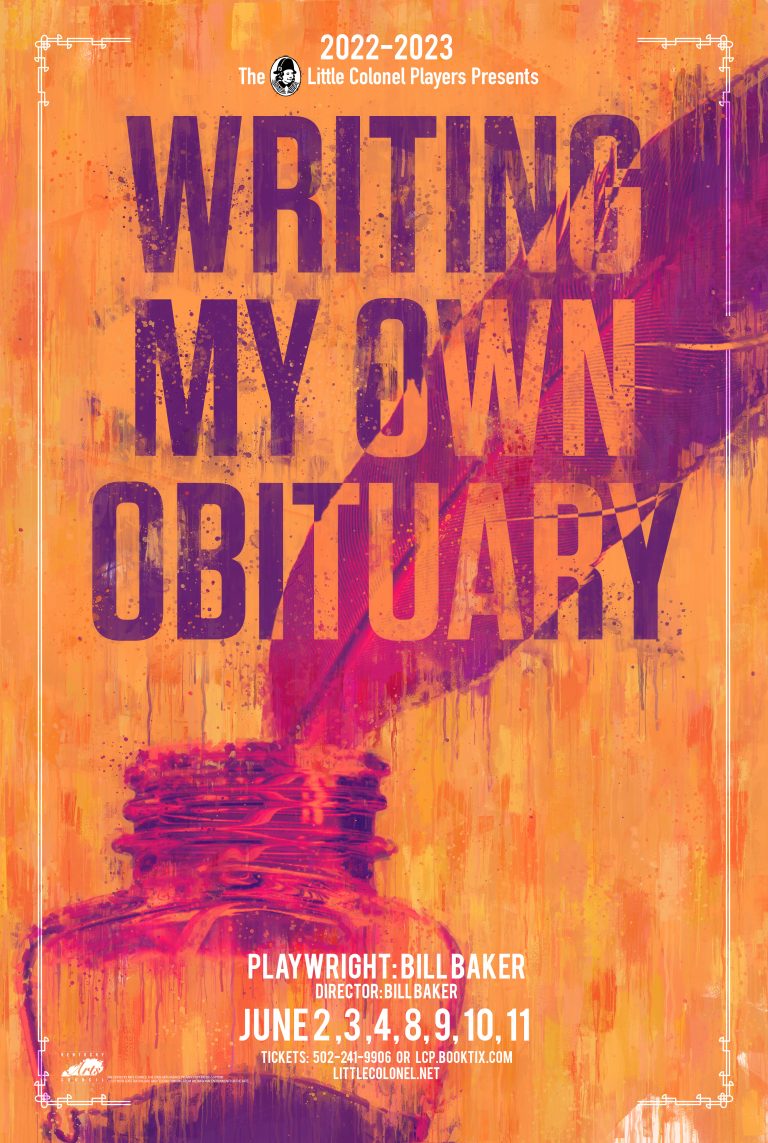 CARL – Age 60's to 70,
Retired, Pretty smart, lead role, Carl is reassessing his life.
Doesn't think he accomplished all that much.
Andrea
– 60's to 70, retired, Carl's wife of many years, pretty smart,
too, retired, lead role, doesn't understand Carl's problem, she
thinks he lived according to his skills and preferences
Nick
– early 20's college student, gets in a little trouble, medium
size role
Ann
– Daughter, 40's, medium size role
Nancy,
18, just graduating high school, smaller role
By Tim Kelly. Sharon Spurrier directs. June 4, 5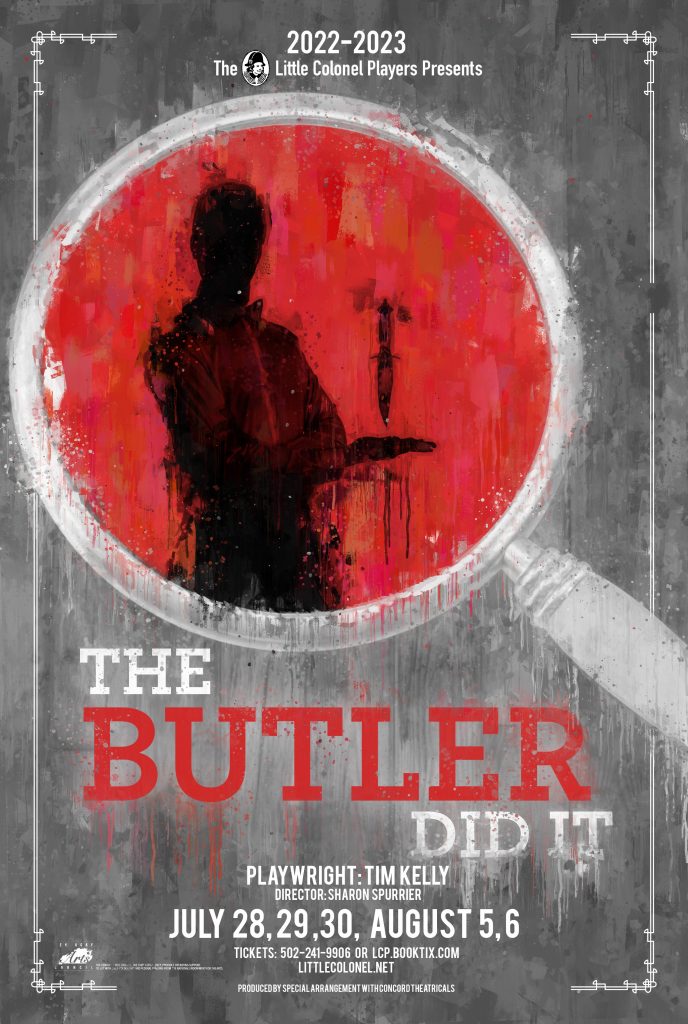 Haversham – A young housemaid, an ex-convict.
Rita – A social secretary.
Miss Maple – A well-known society hostess.
Father White – A mystery writer.
Chandler Marlowe – Another.
Louie Fan – Another.
Rick – Another.
Laura – Another.
Peter Flimsey – Another.
Charity – Another.
Mabel Dupre – An adventuress.
Pharaoh Link – A San Francisco police detective.