Auditions
ALL AUDITIONS ARE HELD AT LITTLE COLONEL PLAYERS THEATER
By William Missouri Downs – Martha Frazier directs.
Fully Cast
A DOUBLEWIDE, TEXAS CHRISTMAS
By Jessie Jones, Nicholas Hope, and Jamie Wooten - Oct. 3 & 4, 7:00pm. Mike Price directs.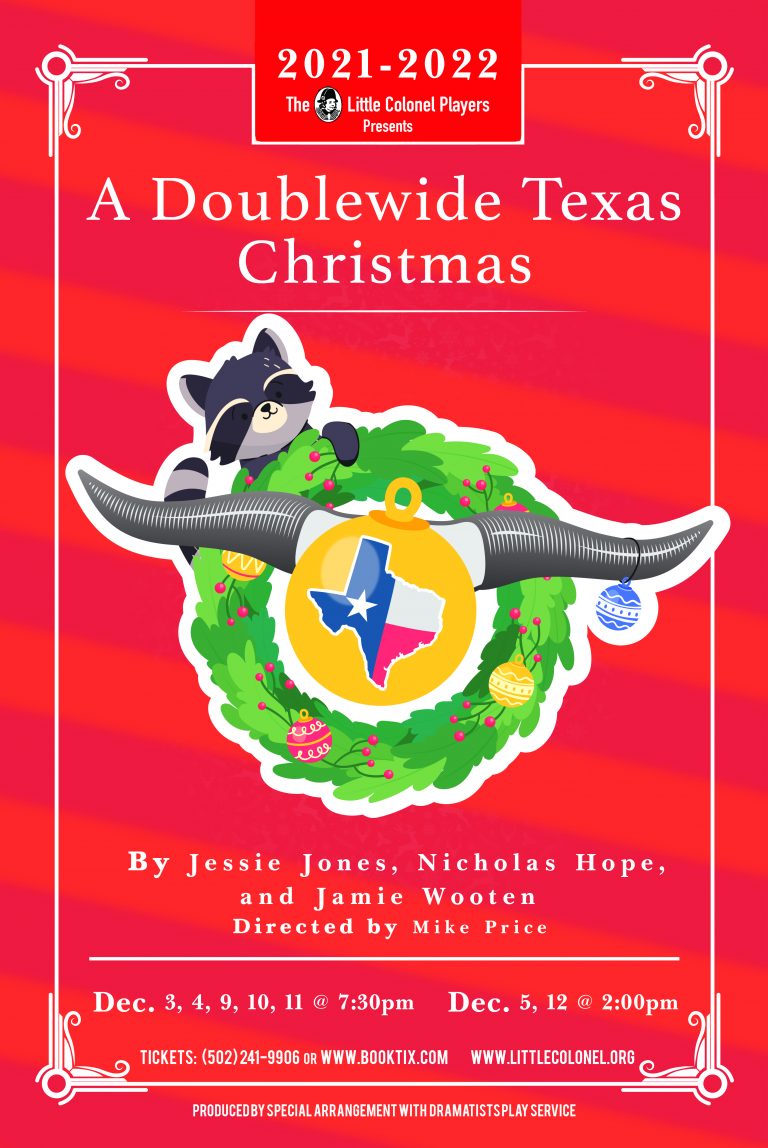 Roles available are open to all ethnicities. Ages listed may have some flexibility (6 women, 3 men)
Big Ethel Satterwhite (50+) Brusque, down to earth nurse at Stairway to Heaven Retirement Village
Georgia Dean Rudd (40s) A Gregarious ball of fire, has worked her whole life at Bronco Betty's Buffeteria. Once loved Nash Sloggett.
Lark Barken (20s) guileless, wears glasses, has a 6 month old daughter, Arden Rose. Moved to Doublewide from Oregon to be with her grandpa, Haywood Sloggett. Also works at Bronco Betty's. She longs to meet her father she never knew: Nash Sloggett.
Patsy Price (50+) Uppity former society matron, and sister of Haywood Sloggett. She was "forced" to move to Doublewide…and hates it…at first.
Joveeta Crumpler (40s) Mayor of Doublewide, absolutely determined to organize and get the town incorporated. Her trailer is the town hall. Uses a large exercise ball. Sister of Norwayne and daughter of Caprice Crumpler.
Caprice Crumpler (60+) Colorful older woman still coming to terms with aging. Wants to find a mate for her daughter, Joveeta, before it's too late. "Sings" a little ditty.
Haywood Sloggett (60+) Spry older man, who was nasty and mean after his wife died but has since found happiness in Doublewide and loves his town.
Norwayne "Baby" Crumpler (40s) Comically enthusiastic "good ole boy". Doublewide Chief of Police, Head of the Fire Department and cleaner of the town's septic tanks.
Nash Sloggett (40s) Rugged outdoorsman, missing father of Lark Barken and son of Haywood Sloggett, he arrives near the end of the play seeking forgiveness.
Harley Dobbs (Voice-Over ONLY, not a stage role. Possibly done by actor who plays Nash Sloggett)
By George Sklar and Vera Casbary - Dec. 6 & 7, 7:00pm. Martin French directs.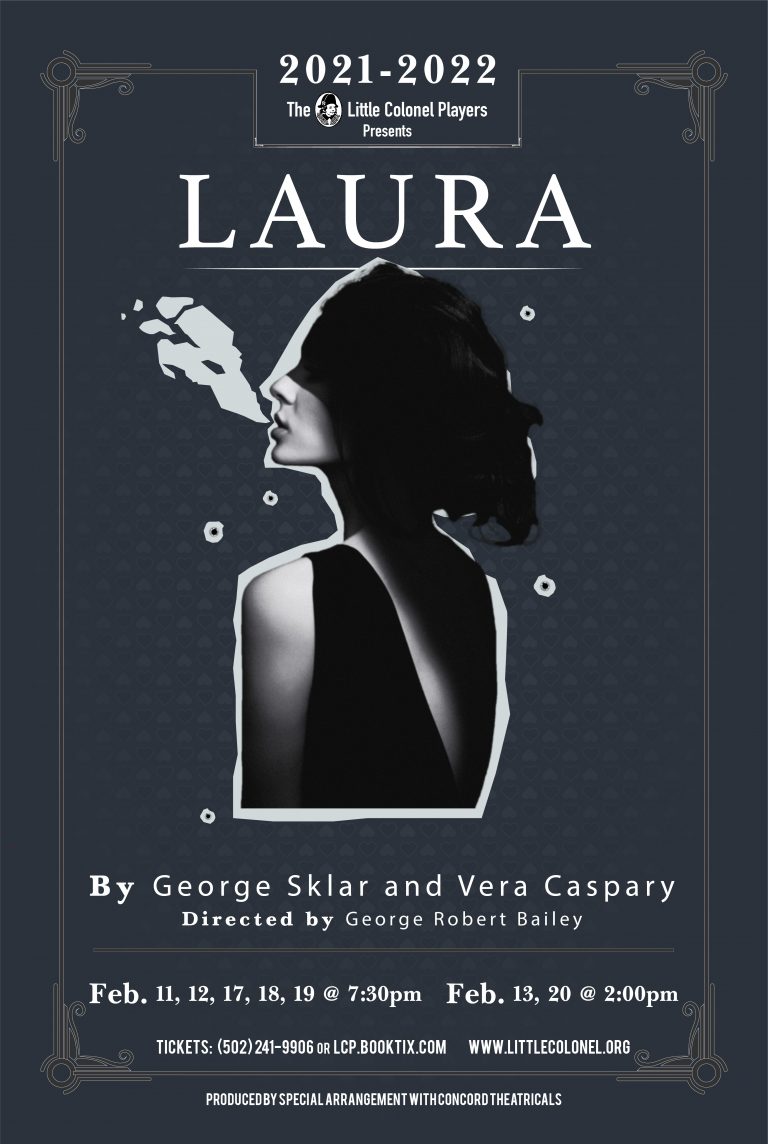 Laura Hunt — What we would consider a modern woman for this
1940's mystery.  She is no one's victim and manages to move
through a man's world of the 1940's by using those who use her, but
is not a damsel in distress.  She does fine work and while she has a
kind heart, she can be strong when she needs to be.  Late 20's to
early 30's.
Mark McPherson — The detective, but not the hard boiled type. 
Strong and masculine but has a limp which he tries to hide.  Dry
sense of humor.  Shrewd and guarded.  30's.
Danny Dorgan — Appears to be a bit of a 1940's punk but has a soft
sweet side he hides.  College age.
Mrs. Dorgan — Danny's Mother and the landlord.  A bit overly curious
and overly polite, suggesting she has secrets or is just eccentric.  Mid
40's but age appropriate for Danny.
Waldo Lydecker — Based on the real life author Alexander Woollcott. 
Flamboyant and rich.  Clearly thinks he is the smartest and wittiest
one in the room and will certainly remind you of that fact.  Older but
hides it.
Shelby Carpenter — Sweet, well-mannered, but always appears to be
a bit out of touch.  Seems so sincere it's hard to imagine it's true. 
Slight Southern accent. 40's.
Bessie Clary — Laura's maid.  She is a good maid.  Knows her
business, adores Laura.  Perhaps a bit too familiar and down to earth
for some.  Age flexible.
Olsen — A good cop.  Age flexible
By Marsha Kash and Douglas E. Hughes - Feb. 13 & 15, 7:00pm.  Sharon Spurrier directs.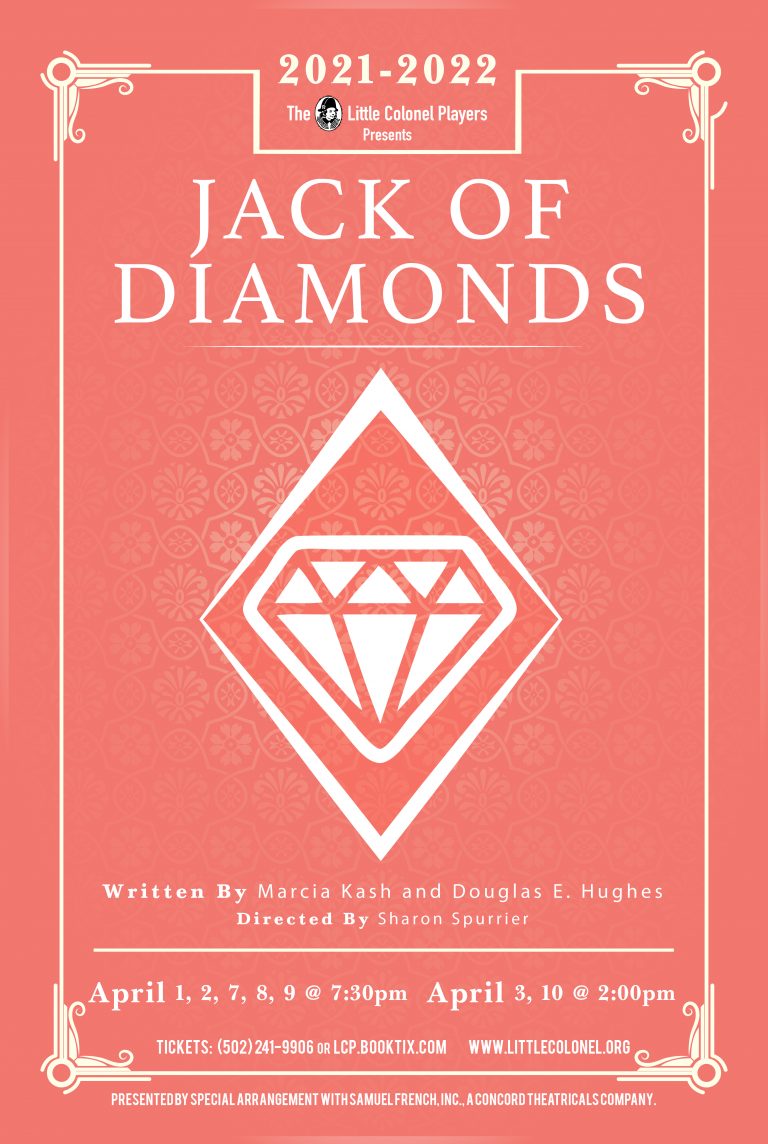 Jack Newman – Late sixties to seventies.  A successful businessman, former jeweler and late-night TV pitchman, physically spry, still very much engaged in life.

Rose – Late sixties to seventies.  An independent, feisty old bird, a real technophile.

Blanche – Late sixties.  A fading beauty, suffers from narcolepsy.
Flora – Late sixties to early seventies. Grandmotherly type, always cheerful, very talented at making jewelry, has memory issues.
Nurse Harper – Forty to fifty-five, career nurse, lonely, unappreciated, bored, and frustrated.
Barney Effward – Forty to  sixty.  Charming con man.  A Bernie Madoff type.
Mortimer – Mid-forties. Uptight, hypochondriac lawyer.
Wilf Gunnarson – Eighty-nine years old.  Almost completely deaf but totally with it.
Policeman– Forties, straight-laced, humorless.  Areal by-the-books type.
*Please note: Wilf, Mortimer, and Policeman may be played by the same actor.
By Bill Baker- April 3 & 4, 7:00pm.  Bill Baker directs.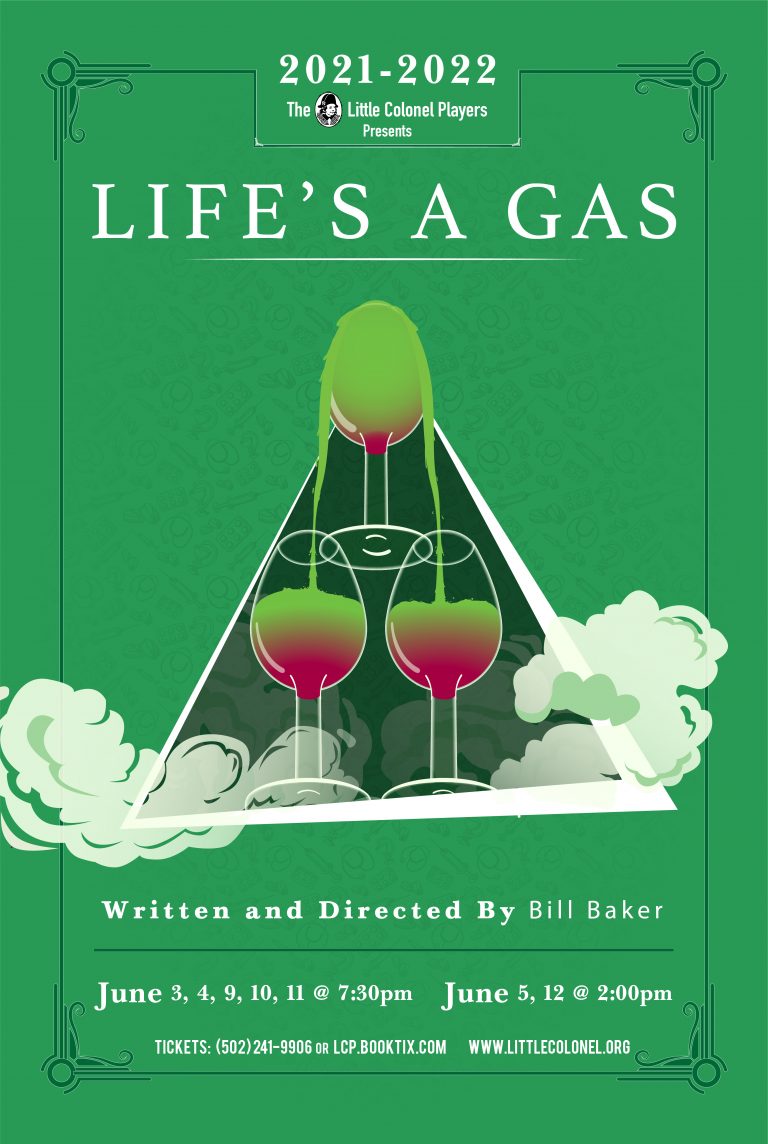 Roles available are open to all ethnicities. Ages listed may have some flexibility
Rich Mann – MALE Age 40 + – A wealthy businessman who dabbles in a lot of different ventures. His "job" is just managing his various interests without getting too bogged down in any one venture. He is currently having an affair with his "Assistant", Phyllis, and has used the Doctor to keep his wife in Florida for a "rest" so he can carry on unfettered with Phyllis.
Phyllis – FEMALE – Age 30 to 45 – Rich's personal assistant.. Currently having an affair with Rich, but is really working with Ed, Rich's stock broker. They are using Phyllis to try to uncover ways to milk more money out of Rich. Successfully bilked Rich out of a large sum a year or so ago. Looking for more. Has been having an affair with Ed, her partner in crime.
Ed –  MALE – Age 40 + Rich's stockbroker. Has been working with Phyllis to try to bilk more money out of Rich. Is married to Edith, but has been having an affair with Phyllis, his partner in crime. Successfully bilked large sums from Rich a year or so ago.
Edith – FEMALE – Age 40 + – Ed's wife. Part of the country club set, where she learns of Ed's infidelity. She wants to keep Ed, so she plans to poison Phyllis to get her out of the way.
Professor – MALE or FEMALE – Age 45 + – has spent a lifetime studying the propagation and care of the paddlefish. Rich is using the Professor's expertise to launch a new business where they will grow and sell paddlefish, as well as the "Kentucky Caviar" that they produce. The Professor is very upset about the business deal he signed with Rich and has been trying desperately to get Rich to change the terms of the deal in his favor. If Rich won't change his mind, the Professor will poison Rich and Ed to find other investors. Has included the Chef in on his scheme.
Bob – Male or FEMALE – age 20 and up  – Chef at a local hotel. Rich has recruited Bob to head up marketing with the various dishes that the fish and caviar can be used in.
Doctor – MALE or FEMALE –  Age 45+ The Doctor has learned he can make a lot of money by catering to the needs of rich patients. He is currently "Helping" Rich by advising Rich's wife to stay in Florida for a "rest" so Rich can carry on with Phyllis. The Doctor loves to drink.
Bill – MALE – age 20 + A thief. Works with Tom.  Stealing is not his regular gig. Tom, his friend, has roped him into stealing so Tom can pay off a gambling debt before he gets his knees broken. Bill is not the sharpest tack in the box, but is kind hearted. He also is sort of "friends" with the cook at the Mann household. She shops at the grocery where Bill works.
Tom – MALE – Age 20 +The other thief. He roped Bill into helping him. He needs a large sum of money to pay off a gambling debt. He is a little sharper than Bill.
COP –  MALE or FEMALE –Age 25 to 40. The cop is a new detective, just promoted from the ranks. He is dispatched to investigate the "murders". He spends a lot of time on his cell phone with the 'Chief" who is worried about the rookie handling this case. His wife also calls a lot, trying to entice him home for a romantic evening, which the Cop doesn't catch on to, until late. He is distracted by the case he's working on.
Adapted by Martha Frazier and Shannon Watts from the novel by Jane Austen - June 5 & 6, 7:00pm. Alyssa Hendricks directs.
All middle school, high school, and college students welcome!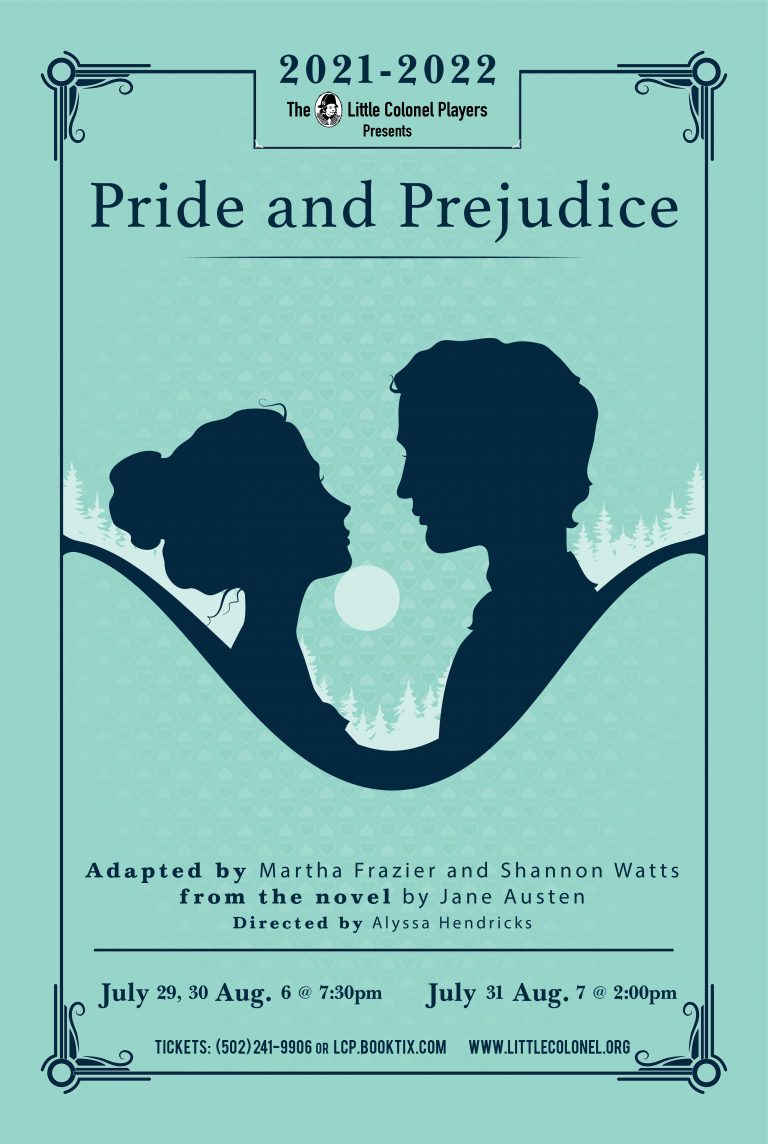 Looking for actors between 13 & 25, and willing to see any age for any part.
Jane Austen: (f, any) author and narrator; intelligent with a sense of humor
Mrs. Bennet: (f) loud, opinionated and somewhat ill-mannered mother to Bennet girls; securing their placement in society is her whole life's purpose
Mr. Bennet: (m) longsuffering husband to Mrs. Bennet; loves his family, but would rather be in his study reading than anything else
Jane Bennet: (f) Eldest Bennet daughter; the beautiful and kind, eternal optimist
Elizabeth Bennet: (f) second Bennet daughter; well-read, quick-witted, and observant
Mary Bennet: (f) third Bennet daughter; pedantic, intellectual, reserved
Kitty Bennet: (f) fourth Bennet daughter; Lydia's shadow and imitator
Lydia Bennet: (f) youngest Bennet daughter; immature, lively, very silly
Mr. Fitzwilliam Darcy: (m) rich gentleman, intelligent, aloof, and cold
Charles Bingley: (m) gentleman of means; kind, trusting, genuine; Darcy's close friend
Louisa Hurst: (f) Bingley's married sister; haughty, accomplished
Caroline Bingley: (f) Bingley's unmarried sister; 
William Lucas:  (m) Neighbor of the Bennets
Lady Lucas: (f) Sir William's wife; local hostess
Charlotte Lucas: (f) eldest Lucas daughter; friend of Elizabeth; practical and intelligent
Maria Lucas: (f) younger Lucas daughter
Lady Catherine de Bourgh: (f) Darcy's aunt; very grand and authoritative
Anne de Bourgh: (f) unmarried daughter of Lady Catherine; sickly, promised in marriage to Mr. Darcy
Colonel Fitzwilliam: (m) unmarried cousin of Darcy
Rev. William Collins: (m) rector; cousin and heir of Mr. Bennet; educated, but not intelligent 
Georgiana Darcy: (f) Darcy's younger sister; civil, shy
George Wickham: (m) militia lieutenant; deceptively charming
Mrs. Gardiner: (f)aunt to the Bennet daughters