Auditions
ALL AUDITIONS ARE HELD AT LITTLE COLONEL PLAYERS THEATER
302 Mt Mercy Drive, Pewee Valley
All auditions at 7:00 PM unless otherwise noted
Roles are open to all ethnicities
By Grant Harrison. G.B. Dixon directs.  August 6, 7
Auditions will be cold readings from the script.
Ages listed may have some flexibility.
An upbeat, high-energy show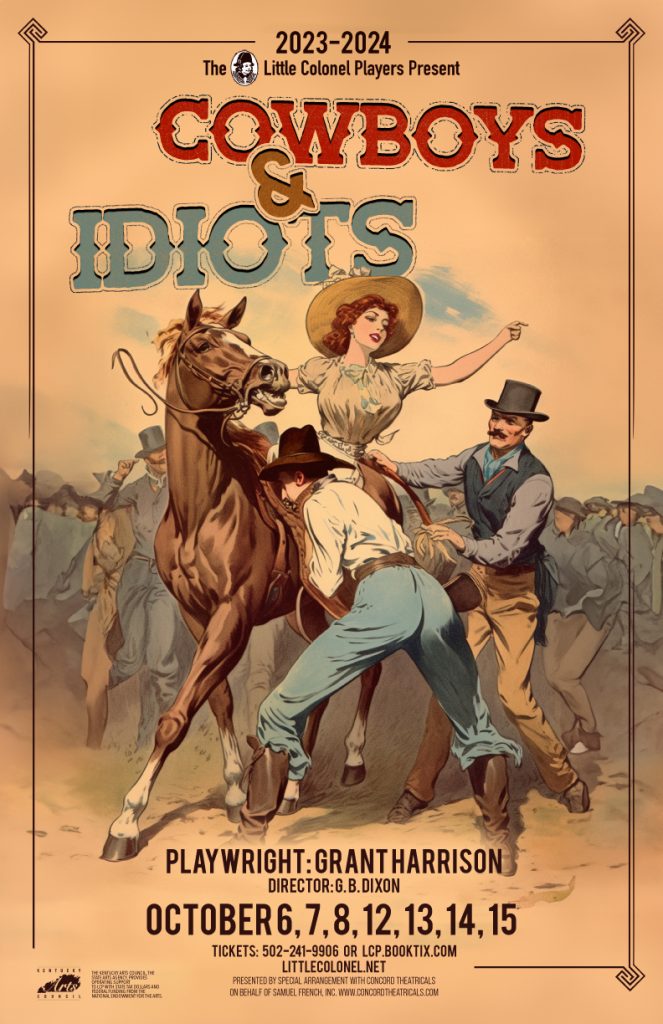 Zeek — Manager and bartender of the Golden West Saloon. He is an unmarried man
in his twenties, thirties, or forties and a leader. (Closest thing to a hero in the show.) This actor must be comfortable getting soaked with water several times throughout the show.
Ellie Craig — The heroine. She is a person of some refinement from an undisclosed
city in the Eastern United States. A woman of strong character, but never so as to
overrule her femininity. Her age should somewhat match Zeek's since they skirt the
bounds of a romantic relationship.
The Posse –  A group of four ranch hands, constant saloon patrons, who carry most of
the show's comedy. (Age is flexible for all, except Straight)
       Dan — Gruff and crusty, but kind.
       Ephraim — Former prairie preacher, now ranch hand.
       Straight — Young man of limited smarts, but keen luck. (16 -25 yrs)
       The Professor – An educated man, once held an important position, but now on hard times. He is slightly pompous and prone to commentary.                            
Silas Hodge — (Villain) Town banker. (30 + yrs) He makes a pleasing first
impression on most, which fades away with his every visit: smug, selfish, smart,
devious, Harvard-educated, and a smooth-talker.
Sheriff Hansom — Local law-enforcer, good-looking, tall, and competent. Think of
Matt Dillion.
Piano Player — Plays incidental music on stage throughout the show. Should be
familiar with a variety of music genre especially period music. The character interacts
with others in the show, but never speaks nor shows his/her face to the audience.
Newsboy/Fauntleroy – at Grand Re-Opening. Plays a hawker of newspapers in
one bit, and a refined youth in another. Written for a young boy, but could be played by a
young girl.
Ensemble – Here is the opportunity for all of those who always wished to be on stage, but never have, or for those experienced actors without the time to commit just now to numerous rehearsals. Members of the Ensemble take on various roles throughout the show, none of which are intimidatingly large i.e. – personal assistants, waiters, restaurant patrons, referee, dynamite experts, townspeople, saloon girls, and more. Parts for men and women many of which have a few lines. Now is your chance! Come on. You know you want to!
Also seeking stage management assistance!
Ken Ludwig's The Game's Afoot (or Holmes for the Holidays)
By Ken Ludwig. Larry Chaney directs. Oct 8, 9

Actors will affect a Transatlantic and/or RP British accents if possible.
Most roles will require some degree of physicality and dexterity.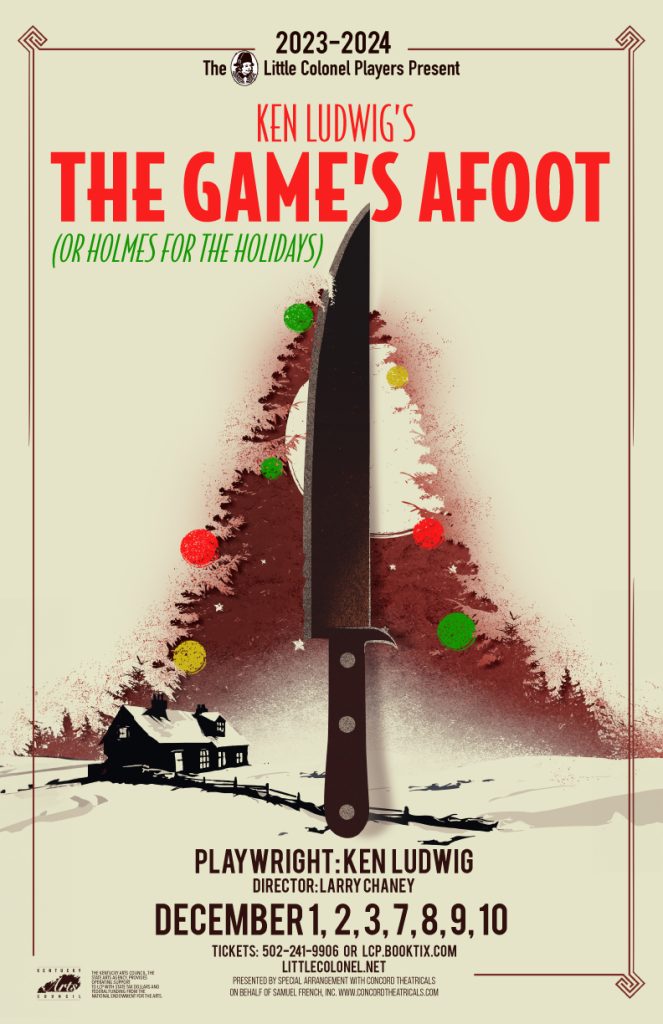 MALE ROLES (3)
William Gillette / Sherlock (late 30s – 50s) –  A dynamic, passionate, and charming stage actor, he has made a fortune from his stage adaptation of Sherlock Holmes. Gillette is determined to use his Sherlockian "skills" to solve a murder. Described by Ludwig as "a strikingly handsome man … good humored, full of irony and life. A sort of modern-day Ulysses."
Felix Geisel / Moriarty (30s – 40s) –  The company's character actor, Felix is Gillette's best friend and occasional sidekick. Married to Madge. A devoted actor who relishes his craft and is not immune to the occasional bout of jealousy. Felix can also be overly dramatic. Actor must be physically strong – literally must be able to move a "dead" woman by himself.
Simon Bright/Zerlinksy (20s – 30s) –  The "man-genue" of the company, Simon is an enthusiastic young man, eager to please and to find success. A witty jokester who finds humor in nearly everything. Recently married to Aggie, they make a charming and wonderful couple. Ability to play a ukulele is noted in the script but is NOT required.
FEMALE ROLES (5)
Inspector Harriet Goring (40+) – A police inspector who once dreamed of being an actress and who is still an avid theatre fan. Described by Ludwig as, "British, eccentric, and one of a kind. One minute, she seems wry and clever; the next minute she's off into a world of her own. She gets things wrong without even knowing it; yet she also seems just the sort of person who can find out when you're lying. That makes her formidable.".
Martha Gillette (60+) –  Gillette's dotty mother, elegant though a bit foggy. Always willing to lob a criticism when necessary, Martha remains loyal to Gillette and his gang of theatrical misfits. She lives a lavish and glamorous lifestyle but lacks the class with which it is normally associated.
Madge Geisel / Marian (30s – 40s) –  Wry and outspoken, Madge (like her husband Felix) is a lifelong theatrical. A witty and energetic character actress, she has an edge as well as a sharp tongue. Described by Ludwig as, "flamboyant and wry in a Rosalind Russell smart-mouthed-gal-about-town sort of way."
Aggie Wheeler / Alice (20s – 30s) –  Aggie is the ingénue of the company. Good-natured and kind, Aggie has had tragedy in her past but seems to have dealt with it well. Recently married to Simon, they make a charming and wonderful couple. A genuine and sensitive young actress who is often swept away by the goings on around her, the character also has a dark side.
Daria Chase (30s – 50s) –  Glamorous and gorgeous, Daria is the theatre critic we all love to hate. Very self-confident and aware of her own power and charm. Described by Ludwig as, "one of those people you can't take your eyes off; and despite all her showbiz cattiness, you can't help liking her … or at least admiring".
Adapted by Rob Urbinati. Alyssa Rae Hendricks directs. December 3, 4
Lady Susan Vernon (30s – 40s) – Recently widowed mother of Frederica Susanna. Charming and Cunning. 
Miss Frederica Susanna Vernon (15 – 20s) – Daughter of Lady Susan. At school in London. 
Mr. Charles Vernon (30s – 40s) – Younger brother of Lady Susan's first husband. Married to Catherine De Courcy. 
Mrs. Catherine Vernon (30s – 40s) – Daughter of Sir Reginald De Courcy Married to Charles Vernon. Sister-in-law to Lady Susan. 
Sir Reginald De Courcy (20s – 30s) –  Married to Catherine
Lady C. De Courcy –  Wife of Sir Reginald De Courcy 
Reginald De Courcy – Son of Sir Reginald & Lady De Courcy. Brother of Mrs. Catherine Vernon. 
Sir James Martin (30s – 50s) –  A wealthy bachelor.  
Mr. Manwaring: – Of Langford. Brother of Maria Manwaring. 
Miss Maria Manwaring: – Sister of Mr. Manwaring of Langford. 
Mr. Johnson: – Married to Alicia. Guardian of Mrs. Manwaring. 
Mrs. Alicia Johnson (40s – 60s) – Married to Mr. Johnson. Lady Susan's confidant. 
By Tom Dulack. George Robert Bailey directs. Feb. 4,5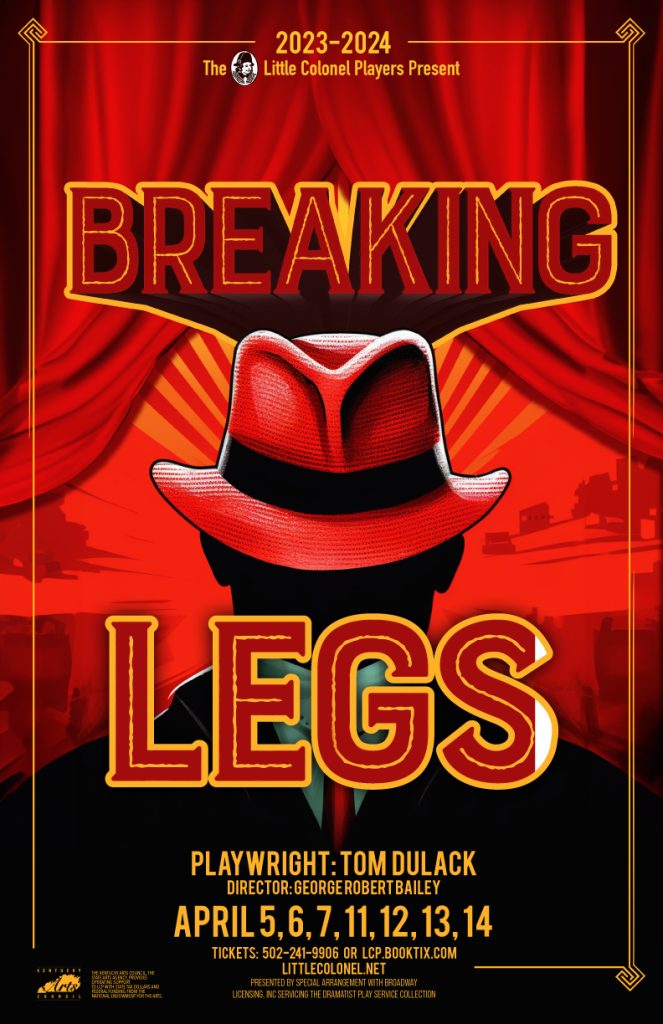 Terence O'Keefe – Playwright, English Professor, a bit of a know it all, except its all an act that shatters quickly when the stakes go up.  Comic romantic male lead.
Lou Graziano—Loveable Restaurant Owner, doting father, and very much "like" a Mafia Godfather
Angi – Lou's daughter who really runs the restaurant, competent, tough as nails, sweet until she isn't and those moments can flip instantly.  Comic romantic female lead.  Does need to be able to fall from a chair.
Mike Francisco – A man often mistaken for a mobster.  Really really scary looking.  Has no trouble getting up close and  personal when its called for and sometimes when its not called for.
Tino De Felice – A businessman, wink wink.  Mike Francisco lite. 
Frankie Salvucci – Gambler, not a good one.  "Oh Frankie Frankie Frankie, how did you get into such a mess?" type. 
Flemming: (An American Thriller)
By Sam Bobrick. Mike Price directs. April 7, 8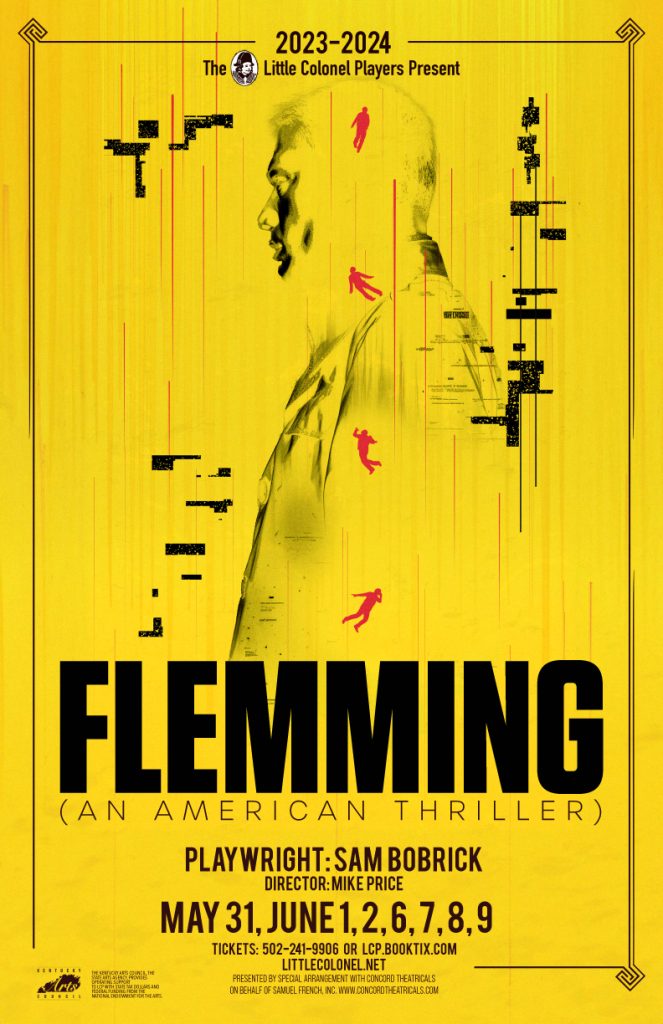 Henry Flemming — (40s – 50). Married to Karen. A successful, unassuming and bored business man. Henry has impulsively sold his brokerage firm, hoping to spice up his life by becoming… a detective! 
Karen Flemming — (30s – 40s) Married to Henry. A smart, sophisticated woman shocked by her husband's plan to deviate from their serene, dull but reliable existence. Knows how to make a good drink.
Stan Spencer — (30s – 40s) Married to Suzy. Nutty, tactless psychiatrist and nosy neighbor of the Flemmings. His marriage with Suzy is one of sarcastic tolerance.
Suzy Spencer — (30s – 40s) Married to Stan. Pleasant if nosy neighbor of the Flemmings. Her marriage with Stan is one of sarcastic tolerance. Has a hidden heart condition that might be an issue in Act 2. Knows how to make a good drink. 
Lieutenant Davis — (30s) A plainclothes cop. He is not so plain.
Miss Havenhurst — (20s – 30s) A beautiful receptionist. She is more than meets the eye. 
Vito Mardigian— (30s – 40s) A tough, threatening gangster. A complicated study in brotherly love.
Walter Larsen — (60s – 70s) Karen's father. Wealthy and distinguished banker who needs to get Henry to come to his senses. May rendezvous with a bullet in Act 1.
By D.W. Gregory. Colson Rich directs. June 2, 3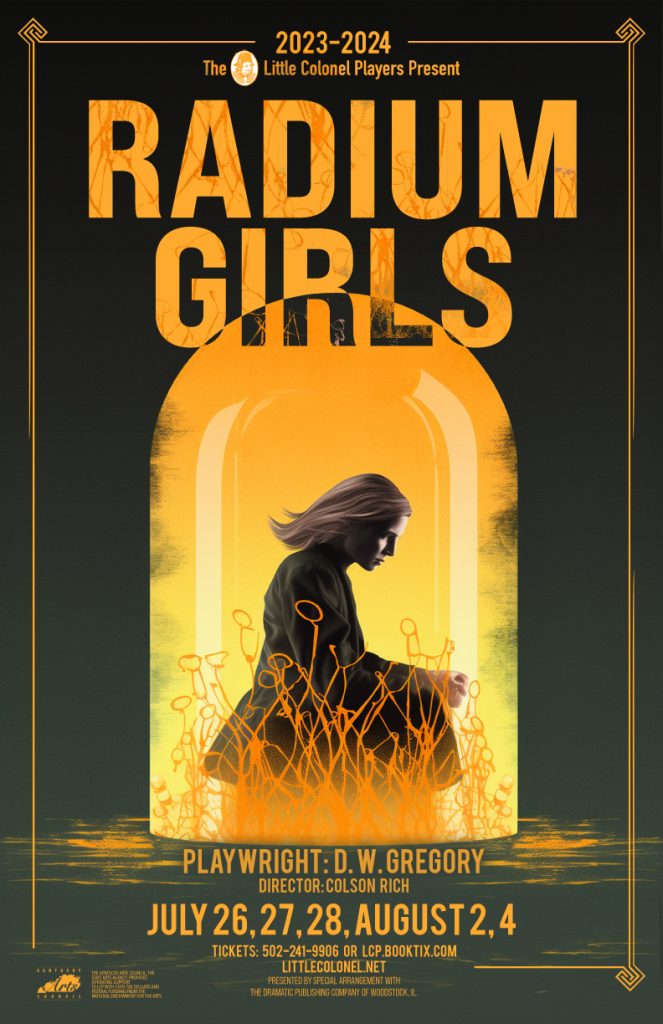 Grace Fryer – The central character of the play. A young hopeful girl that works at the factory who later gets sick from radium poisoning. She decides to take on the whole corporation.
Katheryn Schaub –  Friend of Grace that also works at the factory. Fierce woman who speaks her mind often. There to back up her friend Grace often.
Irene Rudolph –  Cousin of Katheryn. Becomes ill early on in the play. Sweet and innocent.
Arthur Roeder – President of the US Radium Corp. A company man torn between doing the right thing and protecting his business.
Mrs. Roeder –  Wife of Arthur. Supportive of husband while keeping family together.
Macneil – The older woman supervisor of the radium girls. No nonsense attitude about work.
Edward Markley –  Counsel for the company. At times a voice of conscience during the play, but still ultimately interested in protecting the company.
Charlie Lee –  Vice president of the company. Interested in resolving the conflict with as little impact on the company as possible.
Tom Kreider –  boyfriend of Grace. Loving and supportive—anxious to get married and start a life with Grace.
Also seeking assistance in stage management!