(NOT INCLUDED IN SEASON SUBSCRIPTION)
(more details to come)
(Something extra for the kids)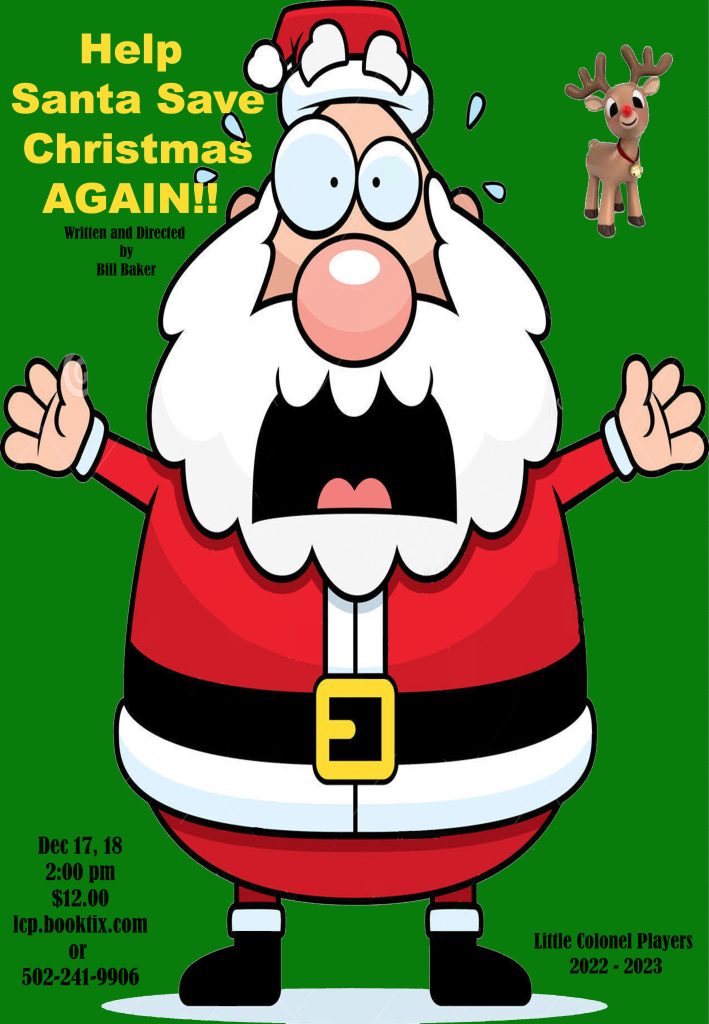 Help Santa Save Christmas, Again
Written and Directed by Bill Baker
A play for children of all ages to enjoy.
We follow the action at the North Pole in the month leading up to Christmas. Santa struggles with the new electronic system the elves installed, to get rid of all the paper lists. RJ, (Rudolf, Jr.) son of Dancer and Rudolf, likes to play tricks on folks, including Santa, and gets into trouble. RJ wants to lead the sleigh someday; but, he doesn't like the bitter peppermint oil that will keep his nose shining bright. Everything is going great this year and everything is ready on Christmas Eve, until a big, last minute crisis. Can you help Santa save Christmas, again? Suitable for everyone.
Dec 17 and 18 @ 2:00 PM
Tickets $12.00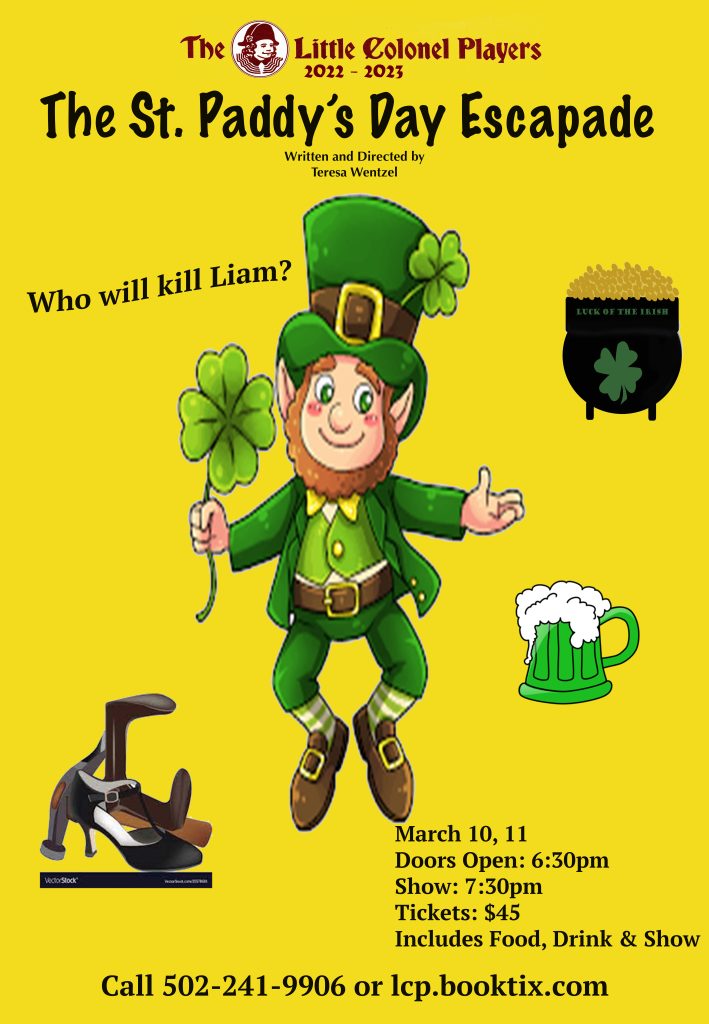 The St. Paddy's Day Escapade
Written and directed by Teresa Wentzel
It's 1960 and Liam Fitzpatrick owns a shoe repair shop in south Chicago. He thinks of himself as a leprechaun…plays the flute, cobbles shoes, even sports a green jacket and red beard. And what a prankster he is! But someone in the neighborhood doesn't like Liam's hijinks and puts an end to them! Is it Norah, the gruff waitress across the street? Or Aiden, his bitter cousin who's carrying a grudge? And then there's Kayleigh, a pious housekeeper who still suffers from a broken heart? And don't forget Rocco, a Chicago alderman, who has a lengthy history with Liam and plenty of resentments towards the annoying cobbler. Finally, there's Paula, a longtime friend who's being blackmailed by Liam! Who's gonna kill him? Come join the St. Paddy's Day festivities (or as we like to call it…the murder of the year)!
March 10, 11
Tickets: $45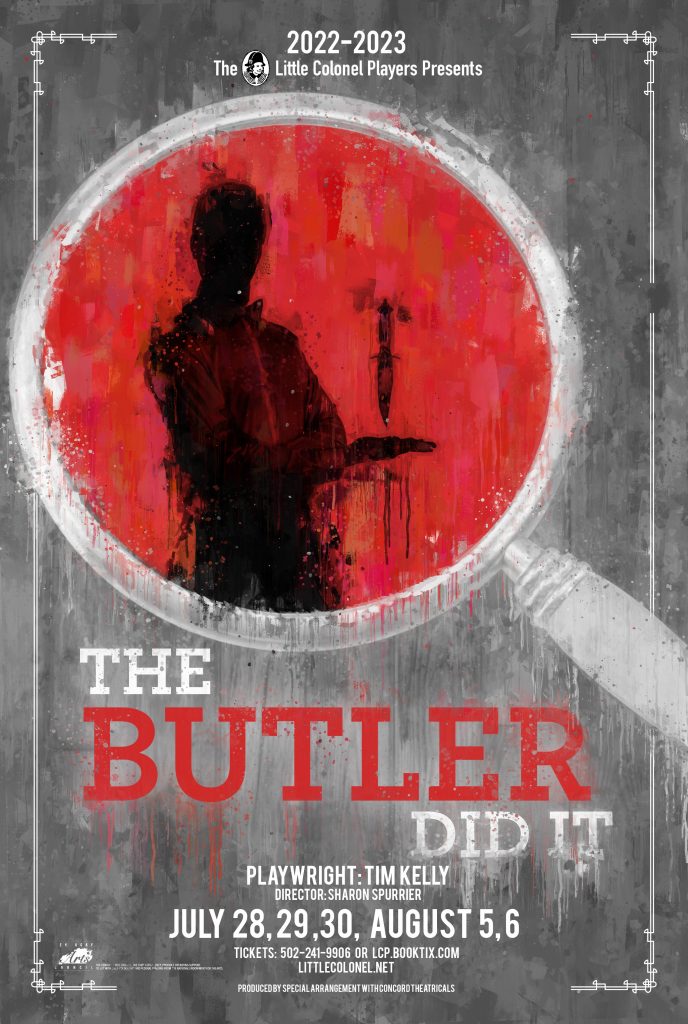 The Butler Did It
By Tim Kelley
Directed by Sharon Spurrier
This comedy parodies every English mystery play ever written, but it has a decidedly American flair. Miss Maple, a dowager with a reputation for "clever" weekend parties, invites a group of detective writers to eerie Ravenswood Manor on Turkey Island where they are to impersonate their fictional characters. The hostess arranged all sorts of amusing incidents, then, a real murder takes place. Miss Maple offers an immense reward to the "detective" who can bring the killer to justice. The zany would-be sleuths trip over clues and each other! Laughs collide with thrills, as the true killer is unmasked, and almost everyone turns out to be someone else. Suitable for everyone. Produced by special arrangement with Concord Theatricals.

July 28, 29 ,30, August 5, 6
Tickets: $13 Adults, $10 Students and Seniors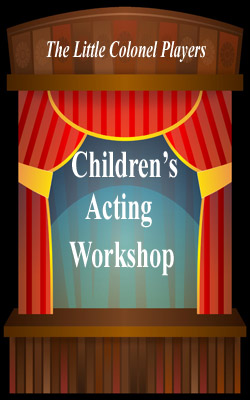 Little Colonel Players is excited to announce its upcoming 
children's acting workshop
! This workshop will be led by Mr. Colson Rich who teaches theatre and mass media at Oldham County High School. He also heads up the d
rama club at OCHS! 
Colson Rich has spent most of his life involved in theater at various capacities. He studied Theater at the University of Kentucky with an emphasis on performance and directing. He has since gone on to teach a variety of theater classes, direct productions, and run the drama club at Oldham County High School. His background is primarily rooted in Anne Bogart's Viewpoints method of theater, which will be the major focus of the summer workshop at LCP. Those that attend the camp can count on being exposed to the fundamental language and process of approaching theater with creativity. Students will be exposed to a variety of activities that strengthen their confidence in performance as well as giving them the tools to focus their creativity into effective theater. 
We at LCP are so excited to have Colson Rich join us in offering this wonderful and fun learning experience to our elementary aged children.
WHEN: June 19 – 23, 1:00 – 4:30 (with a free presentation at the theater on Friday night, the 23rd, to showcase the children's talents)
WHERE: Little Colonel Players Theater, 302 Mt. Mercy Drive, Pewee Valley
COST: $125 per student … 1/2 off for siblings!
WHO: Children ages 7 – 14 (maximum of 25 enrollees)
QUESTIONS: Call 502-241-9906
This is a wonderful opportunity for your children, nieces, nephews, and grandchildren! They will learn so much about stage presentation, expressing themselves, and they will have fun! Positive environment and cheap babysitting! 😊